Personalized and commemorative gifts Priests will treasure and enjoy
Featured here is a wide selection of decorative religious themed gifts I've put together which your Priest will find practical as well as be able to treasure as a valued commemorative keepsake.
**NEW Catholic Gift Store Here**
The gifts include items such as Personalized Rosary bead boxes, Commemorative Ordination Anniversary Watches , Ordination ornaments, personalized journals, clipboard, dry-erase boards stationery, candles and so much more.
There's even a few funny Priest t-shirts for the Priest who enjoys a sense of humor.

Personalized Priest Gifts
Buying a gift for your Priest can be tricky when you know they receive so many at this time of year. Buying them something useful, commemorative and personalized is a good way to ensure your Priest knows how much thought you've put into the gift and how thankful you are for their services.
Gifts can be personalized via Print, Engraving, Handmade and Artisan.
Zazzle
and Amazon have a good selection of Religious Catholic Christianity themed gifts suitable for Priests and other members of the Clergy including Minister, Pastor, Deacons and Nuns.
Popular gifting occasions for Priests include congratulating them on being newly ordained, anniversary of ordination including milestone anniversaries, 10th, 15th 25th, 50th (Silver and Golden Jubilee) as well as Birthday, Seasonal Christian Holidays and as a Thank You.
.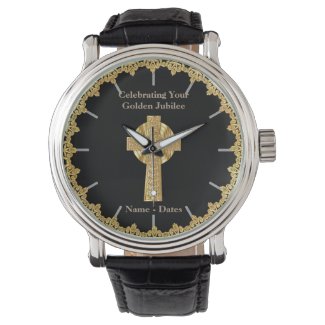 Zazzle has a wonderful range of watches which can be personalized by adding images, text and changing the background colors. Different styles, strap types are available. Featured here are a few religious themed watches which may suit a commemorative anniversary of ordination gift.
This is a great practical gift, stylish too!
Priest Golden Jubilee Personalized Wrist Watches 
Stained Glass Design Jigsaw Puzzle Priest Gift
Stained Glass Window Jigsaw Puzzle personalized with the Ordination Anniversary details of your Priest. A fun gift, unusual and a great keepsake!
The stained glass window offers a great challenge to fans of Jigsaw puzzles and there are more in this range.
Click on the images to view the full range of Priest Anniversary Gifts
The Priest Gifts featured on this page can in many cases be customized by changing the text or you can add a photo. In some cases you can also replace the photo /image with one of your own and change the background colors. You can edit the text to include the Priest's name, date of ordination, number of years ordained and so on. Also featured here are more generic religious Christianity themed gifts including books, plaques and more. Personalized Rosary bead boxes are very popular as a Priest Gift.
Funny Gifts For Your Priest's Birthday
Your Priest does have a sense of humor too, so don't be afraid to buy something that is funny. Stay away though from controversial topics which he may find embarrassing. Other suitable gifts include gift certificates, other items related to his/her hobbies. If your Priest enjoys music (many do) an iPod, Musical CD or other music themed gift may be appreciated.