Budget Wedding Invitations from $/£0.50
Cheapest Printed Wedding Invitations Online
Side by Side Comparison Tables - Quality Versus Price for Minted, Etsy, Vistaprint, Zazzle, Shutterfly, Amazon
I recently asked brides and grooms-to-be over at my Wedding Facebook Group
a few poll questions about how they approach ordering their wedding invitations. In the new world of social media, digital downloads and online design tools I wondered how many couples still preferred taking the traditional route to wedding invitations (prodesigner and professional printing) over newer methods such as self-design and forwarding of online invitations or posting out self-printed invites.
The results are in (50 couples polled so far)
Taking it all into consideration as a whole, I am presently concluding from the results (poll is still active) the following:
1. 0% of couples want to send out send out their wedding invitations solely via email/ online sharing media. Not one bride or groom voted for the 'online only' wedding invitation poll option.
2. 100% of couples want their wedding invitations as 'hard paper/card' copies as oppose to digital only. (Some of this group also want to be able to share them digitally/online, approx 1 in 12 couples).
3. 2 out of 3 couples prefer to have their printing done professionally
4. 1 out of 3 couples prefer to do their own self-printing (at home or work).
5. 1 out of 5 couples prefer to design their invitation themselves.
6. 4 out of 5 couples prefer to use online/professional invitation providers for the design of their invitations.
These results are roughly what I surmise thus far and if it changes greatly I will let you know!What are the cheapest wedding invitations online that still have good quality printing and paper thickness?
You have asked the questions and members of our low budget wedding planning group and our team have answered. Thank you for helping wedding planning couples to easily access great value low budget wedding items.
This list features the most commonly mentioned suppliers by our brides and grooms-to-be. As always read the reviews and exercise your own judgement.
Price Comparison Chart
I've created a chart with the best value items based on the info I have thus far along with a brief summary (affiliate links incl.) it will be updated shortly.
Zazzle (save the dates from $0.09 and invites from $0.55 or lower with volume discount and sales)
Shutterfly (offer a free sample kit - good value when orering in bulk and with sales)
Amazon (great lazer cut options for highly decorative invites)
Etsy (great for digital template downloads for self-printing)
Vistaprint (Great value )
Canva (great digital download features but require a membership/subscription to order)
Minted
Vistaprint
New - my personal (non low budget) recommendation 'Picky Bride' (they're also on Amazon).Thesir invites are from $3 each when ordering 50 but you get a wonderful laser cut, highly decorative, unique invite, so worth a peek!
ZAZZLE
Budget Wedding Invitations / Save Dates from $0.09
Wedding Invitations / Save Dates from $0.09
Zazzle are world leaders in print on demand goods with tools that allow you to edit existing templates or to create your own from scratch.
You can transfer designs to a wide range of products as well as invite your friends, coworkers and family to collaborate (remotely online) on your design projects!
Zazzle offer 100% money back guarantee and always have great sales and coupon offers to ensure awesome value and quality! I (LeahG) am a designer and affiliate for Zazzle due to it's reliability and quality.
cheapest wedding invitations
With our low budget wedding planning couples in mind I have designed what I see are the best value wedding invitations and save the dates.
With quality paper and printing starting from as little as $0.50 (with volume discount and even less with sale and coupon codes) you can make great savings. You can view these low budget wedding invites and save the dates via Zazzle HERE.
Note the paper sizes! The cheapest wedding invitations and save the dates are mainly slightly smaller than A6 in size (hence the great value price). They will fit an A6 envelope but will have a little extra space at the sides. For a perfect envelope fit transfer the design (using Zazzle's nifty design tools) to A7 invitation card stock - the prices jump significantly when doing that but you can still take advantage of the sale and coupon codes with those sizes and continue to make great savings.
cheapest wedding invitations
Postcard invitations offer another great saving option and these do not require envelopes. You can also transfer your chosen budget wedding invitation design to postcards via this site.
The 4"x4" save the dates and invites showing from $0.09 per unit are printed on quality photo paper. So these will not be as for traditional wedding invitations but make a superb budget, cheap save the date option.
SHUTTERFLY
shutterfly cheapest invitesShutterfly wedding invitations
Shutterfly offer amazing value especially for foil printed wedding invitations and you can request a free sample kit!
ETSY
Etsy is world leader in handmade, hand crafted items and they excel in talent in this area. You can access some great value and creativity via Etsy. As an Etsy customer and affiliate I recommend this site for handmade wedding invitations and save the dates as well as their downloadable invitation templates due to their great value and review system. Many wedding invitation designers license images via Etsy to create their invitations and you can do the same making great savings and lowering your wedding stationery costs.
cheapest wedding invitations on etsy
On Etsy you have two options, you can order a template to download and print yourself from home or work or you can order them as a printed product.
Here is one of the more popular cheaper wedding invitation, save the date options on Etsy (burgundy floral).
These invitations are by SunnyPrint who is located in the states, but they ship to the UK along with other destinations.
You can view Sunnyprints lowest priced wedding invitations, signs, save the date collections here.
AMAZON
Amazon have a great many wedding invitations which you can order inserts for (paper cut and foil etc) or handwrite your own invitation text. They do also offer fully customizable wedding invitations but these are not so abundant. I did source one supplier who offers a custom wedding invitation with RSVP for $1.99 per unit which as a combined offer is good value. Not the best value I've seen however. But if you favor ordering via Amazon this could be an option for you.
For better value via Amazon you may want to consider their self print ranges which offer highly decorative styling to compensate.
Note: Prices correct at time of publishing. They may vary due to the individual sites updating.
Online Invitations
NEW
I've just signed up with Picky Bride because they have some stunning, unique invites and low budget or Huuuuugge budget, they have some beauts.
I'm a paragraph. Click once to begin entering your own content. You can change my font, size, line height, color and more by highlighting part of me and selecting the options from the toolbar.
Low Budget Wedding Invitations are now available from Minted!
Minted have a reputation for excellence when it comes to invitations which is why at the Low Budget Wedding Network we are delighted we can now add them to our budget wedding invitation promotions!

Minted have a range of all-in-1 invitations for $1.50! Take a look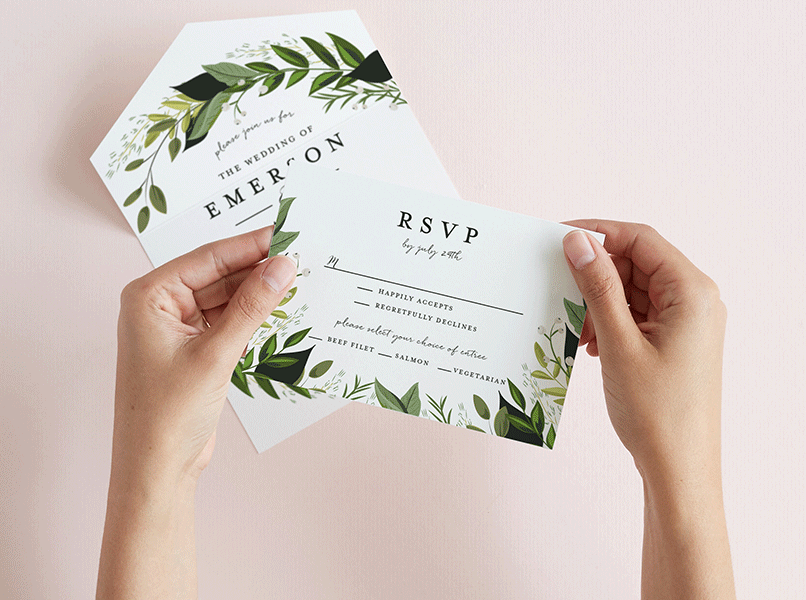 NO envelope required!
Seal with the included stickers
Includes a detachable RSVP
FREE guest addressing, styled to match your design.
Available with Real Foil!
Includes Personalized Envelopes

Room for ALL details incl. receptions, rsvp, directions
Featured Low Budget Wedding Invitations
The Low Budget Wedding Network™️ has created their own range of cheap and inexpensive wedding invitations specifically for engaged couples who are looking for more affordable wedding stationery options. These are available globally via Zazzle which is a world leader in print on demand goods. As well as being super cheap these low budget wedding invitations also benefit from text template fields on both sides saving you even more money as you won't need to buy all the extras such as rsvp, directions, menu and gift registry cards etc.
Special Features - Vistaprint
SHOP REAL GOLD FOIL EMBELLISHED WEDDING STATIONERY AT BUDGET PRICES AT VISTAPRINT
If you want to add some bling and a pop of class to your wedding stationery, gold foil is the way to go. Proudly affiliated with Vistaprint, we are happy to refer you to them not just for their dazzling designs but for their dazzling prices - super low (correct at time of posting). I haven't seen cheaper gold foil wedding invitations or save the dates anywhere else! To help you feel and find your perfect size and paper stock, Vistaprint send you a free wedding sample kit containing an assortment of wedding essentials incl. wedding invitation, RSVP card, envelope and more.
/